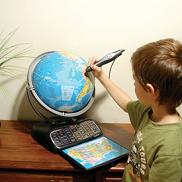 Every day, I wake up to find that I'm even more jealous of the kids today, because of the kinds of learning tools that they have versus what I had. Ok, I didn't turn out so badly; after all, I do know how to use a computer, but still! For example, take a look at this globe. You can just point to a spot on the globe using the included pen to get instant facts about the location: geography, history, culture and much more. Of course, since kids may quickly get tired of just that, there are over 30 activities including searches, comparisons, tests, and games against other players.
Features:
Point to any spot on the globe for geographic and cultural information
Interactive games make learning world geography fun
Over 30 activities and 6 challenging games with knowledge broken down into 3 age groups
Read an In-House Product Review
Touch activities provide information about the country selected with the SmartPen. Each country on the globe has 15 different learning activities, from the name of the continent to the national anthem.
Ready to compare? Select a comparison feature, such as population, time difference, or distance, and then touch any two places.
Find activities are designed for those ready for a challenge. Choose a game in this column to challenge your geography skills or to play against up to three other players.
Under "knowledge," you'll find regularly updated Amazing Facts and Earth Facts, interesting general trivia to all sorts of strange questions you might have.
Price: $119.99
(Please note prices are subject to change and the listed price is correct to the best of our knowledge at the time of posting)