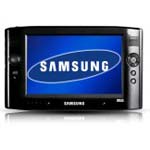 After several days or weeks of preparation for Thanksgiving including "mom" waking up at 4a to put the turkey in and you setting the table to make everything look like a Norman Rockwell drawing, the feast is over after only ten grueling minutes of fighting over who gets the turkey leg and turkey neck (trust me, the neck is where it's at). Everyone retires to the couch in the family room where American football is playing.
As you start to doze off you wish you had a small handheld tablet type of device so you could quickly check the latest Black Friday online ads or your gmail… that's where the Samsung Q1 comes in!
While I'd recommend more than 512MB, I've used and enjoyed the little guy and for someone looking for a UMPC, the Q1 seems to be the standard.
Samsung's new concept Q1 places emphasis on perfectly balancing connectivity, entertainment and computing performance with ultra mobility. The essence of the Q1 lies in its groundbreaking multimedia functionality. The instant on AVS Multimedia features allows you to experience movies, photos and music the touch of a button, without starting windows. The 3 button pad combined with 8 way stick is ideal for PC gaming, while the SRS true sound provides a real alternative to traditional MP3 players.
The Samsung Q1 features the latest communication technologies with 10/100 Ethernet, 802.11bg wireless and Bluetooth 2.0 (EDR) as standard while the twin array microphone allows you to make calls over the Internet using VOIP. 2.0 Bluetooth technology unplugs your digital peripherals and makes cable clutter a thing of the past. Bluetooth 2.0+EDR, while still backwards-compatible with Bluetooth 1.x, is up to three times faster than its predecessors, offering a maximum data rate of 3Mbps Wired & Wireless LAN Featuring the latest wireless and wired standards, providing uncompromising performance, security and scalability for fast, flexible connectivity at work, at home, or on the road. The twin array microphone gives you the freedom and flexibility to make calls over the Internet using Voice over IP with enhanced noise reduction.
Price: $999.99
(Please note prices are subject to change and the listed price is correct to the best of our knowledge at the time of posting)