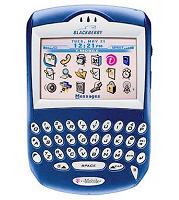 Now Blackberry users can wirelessly read email, make phone calls, book meetings, and more–in color. The RIM Blackberry 7230's high resolution 240×160 display supports over 65,000 colors. The popular handheld also includes increased memory for application and data storage (16 MB flash memory plus 2 MB SRAM), and easy integration with multiple email systems, so you can keep your existing email address or use the one included with the Blackberry. Plus integrated attachment viewing lets you read Microsoft Word, Excel, PowerPoint, WordPerfect, and Adobe PDF files with ease.
Completely embedded wireless technology, lets the Blackberry travel lightly with no extra attachments or dialing-in required to get online. Similar to a DSL line on a wired computer, the BlackBerry's connection is designed to remain on and continuously connected to the wireless network, so data and email is delivered to your handheld with no extra effort required. Services available include wireless e-mail, voice and SMS, mobile data service, a wireless calendar, and of course, wireless Internet access.
The 7230's integrated phone features Tri-Band cellular phone service, which operates on 900/1800/1900 MHz GSM/GPRS wireless networks, allowing for international roaming between North America, Europe, and Asia Pacific.
For security, the BlackBerry Enterprise Server supports the Triple DES standard, which meets established corporate security requirements for remote data access to allow secure sending and receiving of confidential information from any location. Blackberry software is supported by Microsoft Exchange Version 2.1 or higher, or Lotus Domino Version 2.0 with Service Pack 2 or higher. Also, Blackberry supports Java 2 Micro Edition (J2ME), enabling a wide range of open standard software application development.
When used as an organizer, the Blackberry offers PC synchronization, a calendar, reminders, and other standard PDA features, as well as a keyboard-backlit QWERTY keyboard, and a Trackwheel brand thumb-operated trackwheel for ease of navigation. Accessories include a USB cable for charging and PC synchronization, an international travel charger, and a swivel holster. The machine measures 4.4″ x 2.9″ x 0.8″, and weighs 4.8 oz. The Lithium battery is rated at up to 4 hours talk time and 10 days standby time.
Price: $399.99 ($199.99 with Service Plan)
(Please note prices are subject to change and the listed price is correct to the best of our knowledge at the time of posting)