There's nothing worse than having your cell phone die especially when camping, boating or hiking. The Sidewinder is called an Emergency Cell Phone Charger because without electricity you can actually charge up your cell phone with a little elbow grease in a fishing reel type of action.
The Sidewinder weighs in at only 2.5 ounces and measures a mere 2″ x 1.5″ x 1″.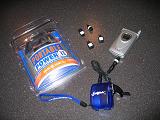 You can buy the Sidewinder by itself or as part of a combo-pack. The combo-pack comes with a small pouch that the Sidewinder fits nicely into as well as cables for Nokia, Audiovox, Ericsson, Motorola and Kyocera/Qualcomm/Samsung phones. The Sidewinder costs $19.95; the combo-pack costs $24.95 and can be purchased from the Sidewinder web site.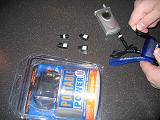 I tested the Sidewinder with a Samsung SPH-A460. Unfortunately my Treo smartphone is not supported. I was successfully able to charge the Samsung successfully using the Sidewinder. The proof was in the red charging light on the phone.
In addition to the ability to charge several manufacturer's phones, the device has an LED light which lights up when a cell phone is not being charged. The light could allow you to locate your phone in the dark but I wouldn't use it to hike at night.
Check out the product at Sidewinder's website.
What's Groovy and What's Sucky
What's Groovy: The Sidewinder works as advertised and the product feels solid.
What's Sucky: Not all cell phones are supported by this little gizmo and when
you crank the Sidewinder it makes a grinding noise.

Features
Performance
Quality
Value
In addition to the main function of the device — which of course is
to charge up a cell phone for enough time to make a call — the device
has a convenient bright LED light that glows for about 5 minutes
after cranking the device. Now, if only the Sidewinder could create a
cell!
The Sidewinder performs the task of charging up a low charged cell
phone by cranking the handle for a couple minutes yielding several
minutes of talk time.
The device is compact and well put together and the adapters for the
phones plug in nice and tightly to the device.
The Sidewinder is like insurance… you never want to use it. If you
ever do need to use it though, the value is immeasurable.
Overall
The Sidewinder is very useful for anyone who needs their cell phone charged without access to a power outlet. Provided the Sidewinder works with your cell phone, the geeks recommend buying one and storing in the glove compartment of your car to charge your cell phone in emergencies especially as the device is only $19.95!