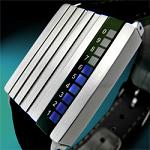 The Retsu by Saishin is the smallest LCD watch in the world. This Japanese-made watch features a column of 10 LEDs and 4 vertical lines and is on 8mm thin and weighs 40 grams. As a watch lover, the look of this watch is definitely unique and exciting.
The watch lights the LEDs up one edge of the watch to a digit then trails off leaving one light on the number to be read. The first number is for the hour followed by the minutes.
The watch is only available from tokyoflash.com, but they ship worldwide. Definitely a slick looking watch.
Featuring a column of 10 LEDs and 4 vertical lines precision machined into the face, the Retsu takes design to a new level.
At only 8mm thin and 40 grams, the Retsu is just 1/3 of the weight of most other LED watches. The vertical display runs in line with the edge of the strap forming a smooth transition from one end to the other.
Amazingly simple to read, the lights race up to the digit then trail off leaving one light reconfirming the number. This is repeated for each digit to tell the time.
The strap is black Suede for a comfortable fit and it is perfect for either men or women. For people who really appreciate great design, this watch is a must have.
Price: ~$125 (Â¥14900)
(Please note prices are subject to change and the listed price is correct to the best of our knowledge at the time of posting)