This article reprinted courtesy of Smarthome.
For the most part, Halloween is a festive day filled with costumes and goodies. But thanks to a handful of bad apples, it has also become a night associated with pranks and other mischievous shenanigans, including smashing pumpkins, strewing homes with bathroom tissue or throwing eggs. Fortunately, with the right equipment, you'll be able to turn the tables on those late-night hooligans. Just put a Scarecrow Water Spraying Repeller on your lawn, and anyone that gets near your home will be blasted with a jet of cold water!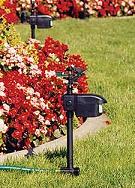 Products Used:
Tools Required:
Here's How to Do It:
After the supervised, well-behaved trick-or-treaters have all gone home, simply push the Scarecrow's mounting spike into your lawn. Then connect it to your garden hose and turn on the faucet. When its built-in PIR motion detector senses motion, the Scarecrow will spray a 4-second burst of water, scaring off Halloween pranksters instantly. You can adjust the spray distance (20-40 feet) and detection area (10° to a full 360°). For easy retrieval and clean-up, try it with our Automated Garden Hose Rewinder (#3292).
Year Round Use:
You can use this unique device all year long to protect your gardens, flower beds and other protected areas from cats, dogs, raccoons, squirrels, deer and more!
Total Budget:
The total budget is $79.99 and this pest sprayer could be used year round.