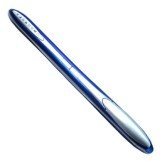 Planon System Solutions' DocuPen RC800 Portable Scanner is the smallest full color page scanner available today and the latest in DocuPen pen scanning products from Planon. It's the size of a really big pen with the flexibility of storing scans on the go with a MicroSD slot. You can scan on the go and connect to your computer's USB slot later using TWAIN to read into any program that accepts TWAIN.
If you find the need to scan pages on the road, or you are simply geek enough to want to scan pages on the road, the DocuPen really seems to be your best (only?) solution. The scans look quite nice from what I've seen and the size of the device won't put a strain on even the lightest traveler.
The RC800 is capable of storing 100's of pages into memory and it takes just seconds to scan a page. Choose the mode you want to scan: black and white, standard color or high 24bit color and the resolution from 100 to 400 dpi. Now you can scan your letters, color documents, pictures and bring them into Paperport software (included with the Docupen). The DocuPen is different from other pen sized scanners in that it scans a FULL PAGE width and therefore scans the entire page including text and graphics in as little as 4 seconds. Other handheld and pen scanners only scan single lines of text or records handwriting and some scanners need to be attached to your computer whereas the Docupen overcomes these limitations. The need for convenient out of office scanning is enormous but has not been satisfied because the products to date did not fulfill that need adequately. There truly is no other product like the RC800 on the market today.
Price: $314.95
(Please note prices are subject to change and the listed price is correct to the best of our knowledge at the time of posting)