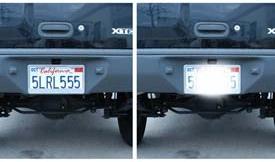 The Photoblocker Spray has been featured on CBS,NBC and ABC News as well as the LA Times, Chicago Sun-Times and other media outlets as a product that works and blocks the red light and speed cameras that capture your license plate and ships a ticket to you. Apparently these cameras use a strong flash to snag your license plate so when you spray the Photoblocker Spray on your license plate, the images captured by the cameras are overexposed.
Breaking the law!
How does Photoblocker Spray work? A majority of red light and speed cameras utilize a strong flash to photograph the license plate on your car. The Photoblocker formula creates a high gloss that reflects the flash back to the camera. This overexposes the image of your license, rendering the picture unreadable. Photoblocker makes your license invisible to traffic cameras, yet it stays completely legible to the naked eye.
Photoblocker Spray works! This product has been featured on CBS, NBC, and ABC news, as well as in the Washington Post, the New York Times, the Chicago Sun-Times, the Los Angeles Times, and numerous other national and international newspapers and radio stations.
Price: $24.99
(Please note prices are subject to change and the listed price is correct to the best of our knowledge at the time of posting)