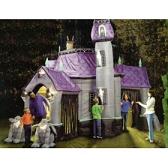 We featured another inflatable Halloween prop a couple days ago, but we found the mother of all Halloween yard props in the Outdoor Inflatable Airblown Halloween Haunted House Yard Prop.
Weighing in just under 50 pounds, this 12.5 foot tall inflatable Haunted House has everything you need for an easy haunted house setup with ghosts and gargoyles, stobe lighting synchronized with realistic Creepy Sounding Spiders and Bats hanging from the ceiling and Flashing Eyes watch you. You actually walk through this inflatable Haunted House.
This is only for true Halloween geeks!
Gigantic REAL Haunted House BRAND NEW AND FACTORY SEALED. Features Include: Over 12.5′ tall! Spooky Ghosts await your arrival Scary Gargoyles stand guard while Lanterns adorn the entryway Strobe Lighting synchronized with realistic, Creepy Sounds Spiders and Bats hang from the ceiling as Creepy, Flashing Eyes watch you The opening overhead in the main room is adorned with an Eerie Spider Web Multiple entrances and exits enable you to walk through the haunted house with ease Included in Box is Everything you Need for Easy Setup: 1 Haunted House 1 lights of sound box 12 metal stakes (small) 10 metal stakes (large) 10 nylon tethers 2 spare lightbulbs 1 spare fuse This is Going to Be the Talk of the Neighborhood.
Price: $399.22
(Please note prices are subject to change and the listed price is correct to the best of our knowledge at the time of posting)
PSST> Many, many more Inflatable Outdoor Halloween props at Amazon.com.