Are OLED (organic light-emitting diode) TVs ready for US consumers? According to our interview with Samsung SDI today the answer is "yes".
While viewing the various displays, we have to agree OLED creates some incredible images compared to even LCD screens, the lifespan of the Samsung SDI AM OLED (Active Matrix-based OLEDs) is about half of typical screens at about 10,000-20,000 hours. Besides being a rather huge possible difference in lifetime, the lifespan is still roughly half that of LCD screens.
One of the problems with OLED has always been the lifespan of OLEDs (the blue OLEDs). Typically, blue OLEDs would only last 9,400 hours at a luminance level of 400 cd/m2. Compared to LCD panels at the same brightness, LCDs average lifespan is 60,000 hours
Samsung displayed AM OLED screens from the smallest cell phone screens to an absolutely beautiful 17″ AM OLED TV set. We are not sure why their 21″ AM OLED TV Set was not displayed though. There was a comparison set up so you could see the difference between the AM OLED and the TFT LCD screens. There was an amazing difference in clarity and vividness of the color between the two technologies with AM OLED winning hands down.
Also on display was the world's first 102 inch Full HD PDP (Plasma Display Panel). With a resolution of 1920×1080 at 102 inches, the image was slightly grainy… but what can you expect at 102 inches. The 102 inch HD PDP also supports 68.7 million colors with a contrast of 2000:1 and a brightness level of 1000 cd/m2. We not quite sure how a TV set this size would make it in a door much less around a corner!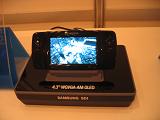 One of the more impressive looking displays by Samsung SDI included a 4.3″ WQVGA AM OLED gaming device similar which was put into a package similar to a Sony PSP. With an aspect ratio of 16:9 and response under 0.01ms as well as 16k colors and a contrast of 2000:1 and brightness of 520 cd/m2, this display definitely was beautiful.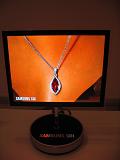 The largest OLED TV set displayed was a 17″ AM OLED with UXGA resolution. The images were spectacular on the display. The AM OLED set sported a contrast ratio of 2000:1 and brightness of 400cd/m2. For some reason the screen ratio was only 4:3.
Those were the most impressive displays being shown at Samsung SDI. While the 102 inch Full HD PDP probably is just for show, Samsung SDI mentioned that the AM OLED TV, cell displays and handheld device displays will be in the US consumer market within a year and a half.