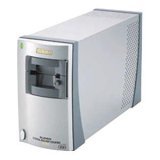 Nikon's CoolScan 5000 ED is designed for imaging professionals and serious hobbyists (otherwise known as geeks!). The unit offers 35mm and APS film scanning at 20 seconds per image. That doesn't seem super fast does it? Well, that is scanning at 4,000 DPI true optical resolution! Now that seems quick.
A 16-bit A/D converter & 16-bit output channel ensure highly accurate color reproduction and representation of detail. Scan Image Enhancer function auto-adjusts brightness & color saturation Digital ICE4 Advanced suite includes – Digital ICE removes surface dust & scratches without altering image composition Digital ROC rebuilds & restores deteriorated color values Digital GEM reduces film grain effects Digital DEE reveals details hidden in shadow or highlights.
A high-performance dedicated film scanner designed for imaging professionals, the Super Coolscan 5000 ED offers high-quality scanning of 35mm slides, 35mm film strips, APS film (with optional IX240 film adapter), and prepared slides (with optional medical slide holder). The Scanner-Nikkor ED glass lens offers a 4,000 dpi optical resolution, while the 3,964-pixel, two-line linear CCD image sensor and 16-bit per color A/D input (8-/16-bit output) provide true-to-life, brilliant results.
Nikon's own LED illumination technology ensures accurate color separation with no warm-up time or risk of heat damage. Scan times are as fast as 20 seconds including image transfer to display, and as fast as 11 seconds in preview mode. Automatic color/contrast compensation helps you achieve accurate results, while the ICE4 advanced digital image correction suite of technologies–including digital ICE, digital ROC, digital GEM, and digital DEE–helps to restore old slides to their original glory. Additionally, the included Nikon Scan 4 software provides a comprehensive and easy-to-use interface for managing your scans.
The Super Coolscan 5000 ED has a convenient, plug-and-play USB interface, while one-touch scan and preview buttons will have you scanning film in no time. PC and Mac compatible, the Super Coolscan 5000 ED also comes backed with a one-year limited warranty.
Price: $999.99
(Please note prices are subject to change and the listed price is correct to the best of our knowledge at the time of posting)