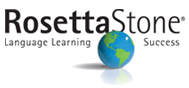 Learning something new makes the top of many people's New Year's Resolution lists including my own. In fact, this year I would like to learn a new language… Mandarin Chinese.
Luckily, Rosetta Stone provides an interesting way to learn a new language in that they claim you learn a new language in much the same way you learned your native language without translation or memorization. Using native speakers, real-life images, speech recognition and fully interactive software, Rosetta Stone teaches you like you learned your first language – naturally.
There is no more powerful and constructive force than language. That's why Fairfield Language Technologies is proud to be the publisher of Rosetta Stone, language-learning software acclaimed for its success in helping millions of people communicate effectively in a new language.
Two related ideas set Rosetta Stone apart. First, the best way to learn a second language is the way we learned our first one—through Dynamic Immersion™. Second, interactive technology can reproduce this immersion experience. Combine the two in a carefully structured curriculum and people of any age can learn a language with the enthusiasm and excitement they brought to language learning as children.
We introduced our first Rosetta Stone language-learning program in 1993. Today, Fairfield Language Technologies, headquartered in Harrisonburg, Virginia, is the world's leading language software company, with offices in the United States and the United Kingdom. We offer programs in 30 different languages spoken by over 90% of the world's population.
The diversity of our offerings and the effectiveness of our method have made Rosetta Stone the program of choice for corporations, government agencies, and educational and community organizations, as well as individual users.
Price: $49.95/month or $195 and up
(Please note prices are subject to change and the listed price is correct to the best of our knowledge at the time of posting)