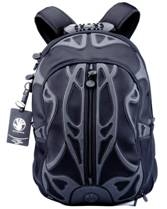 SLAPPA (www.slappa.com ) today announced the launch of their new Velocity PRO SPYDER laptop backpack, featuring a thick rubber exoskeleton with rainproof PRO Grade Scuba-prene offering reinforced storage protection for all of your digital gear. The Velocity PRO SPYDER offers superior protection, superior design and superior materials.
"We continue to hear from many end users who tell us they are tired of the parochial backpacks that are on the market, so we focused on engineering a backpack unlike anything else out there�, says SLAPPA Communication Manager, Kylin Clevenger. "We as a brand continue to bring to the market top quality products and service, and listen to the requests of customers. The Velocity SPYDER is a direct result of our incorporating customer feedback into product engineering.�
The Velocity PRO SPYDER has 4 main compartments which also include lots of sub compartments for storing all of your laptop or DJ mixing accessories. Inside the main compartment is SLAPPA's "Super Padded� laptop sleeve, ideal for oversized laptops up to 17�. A rear compartment incorporates a STAY COOL inner lining for storing cold goods and keeping them close at hand. Also included are combination locks for the main zipper compartments (which feature locking zipper heads) and a removable phone/pda/MP3 player case.
Other features include:
· Xtra-padded comfort shoulder straps
· Xtra-padded back support
· Plush jersey inner lining
· E.Z. grip SLAPPA handle
· Industrial strength zippers
· Dual rubber logo zipper pulls
· Zip-stop end caps
· 3-D rubber name card holder
The SLAPPA Velocity PRO SPYDER is now available at www.slappa.com for $79.99.