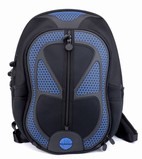 SLAPPA today announced the launch of a new addition to their current RoadWarrior laptop line, the Velocity PRO Laptop Backpack in Blue Waffle. As stated on the company website, www.slappa.com the new Velocity PRO is designed for anyone who's tired of the cheesy and boring black nylon bags that dominate the current market. SLAPPA launched its first designs of the RoadWarrior line in late 2005 with a specific focus of offering more then the basic black nylon bag.
The Velocity PRO offers huge storage space, incorporates a unique blend of materials and is based on a practical design layout. The Velocity PRO has 4 large storage compartments:
• Super-padded main pocket for a 16� laptop and papers
• Mid pocket with inner compartments for electronics, wallet, keys, change, credit cards, papers, etc.
• e.z. reach front pocket for small papers, electronics, car keys and change
• Rear compartment with STAY COOL inner lining stores cold goods.
Unique and tactile materials have been used throughout, which include an exterior of Pro-grade rainproof scuba-prene with molded silicon exo-skeleton and plush fleece lining for each inner compartment. Other features include:
• Super comfort shoulder backpack straps
• Padded back support
• Locking zipper heads
• Zipper caps at end of each zipper tape
• 3 combination locks included for each main storage section and large rubber name card holder
• Removable mobile phone case on shoulder strap
The SLAPPA Velocity PRO Blue is now available at www.slappa.com for only $79.99.