WAYNE, NJ, May 1, 2006 – Home theater is now available for the bedroom or other small room with the introduction of a new JVC compact home theater system, which features the company's exclusive sake-soaked wood cone speakers.
The elegantly-designed JVC EX-A10 includes two diminutive components – a receiver and a matching DVD player – which when stacked occupy no more space than a typical laptop computer. Wrapped in a brushed aluminum finish, these components are complemented by a pair of JVC's wood cone speakers housed in beautifully finished solid cherry cabinets. The system easily fits on a bookshelf or desktop. For a complete home theater set-up, all the user need add is a TV.
What truly sets the EX-A10 apart are its wood cone speakers. To deliver a warm, natural sound, each speaker cone is made of a solid sheet of wood, which has acoustic properties that make it ideal speaker material. But it's a design that was 20 years in the making because forming the wood sheets into a speaker cone proved daunting – they would crack. Countless techniques were tried, but proved ineffective, until a surprising solution was found – sake, or Japanese rice wine. JVC engineers discovered that when soaked in sake, a birch wood sheet becomes soft and pliable enough to be pressed into speaker cones without splitting.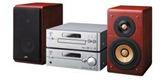 With the EX-A10, JVC includes a pair of two-way wood cone speakers, each cabinet housing a 3-3/16-inch wood cone mid/bass driver and a tweeter with a wood dome. The black semi-transparent speaker grills can be left on or removed to show off the birch wood speaker cones.
To provide theater-like audio performance from such a small system, the EX-A10 features JVC's Hybrid Feedback digital amplifier, a compact, highly efficient design that generates high power output with low distortion levels. The system is bi-amplified, with 30 watts per channel driving the mid/bass speakers and 20 watts per channel driving the tweeters. To further ensure the best possible sound quality, the system employs JVC's K2 and CC Converter (Compression Compensative) technologies, also found in JVC's top-end AV receivers, which improves the sound quality of both CDs and music files, such as MP3 and WMA files. The system can play both DVD Video and DVD Audio discs and provides two-channel decoding of Dolby Digital and DTS surround sound signals. Also built into the receiver are an AM/FM tuner and a clock with a timer that allows waking up to CD or the radio. Included is a full-function remote control.
Other components and devices can be connected to the EX-A10 using its analog and optical audio inputs. For connecting to a TV, the system offers component, S-Video and composite outputs.
The JVC EX-A10 is available now and sells for about $1,000.
About JVC Company of America
JVC Company of America, headquartered in Wayne, New Jersey, is a division of JVC Americas Corp., a wholly-owned subsidiary of Victor Company of Japan Ltd., and a holding company for JVC companies located in North and South America. JVC distributes a complete line of video and audio equipment, including high definition displays, camcorders, VCRs, D-VHS recorders, DVD players and recorders, satellite systems, home and portable audio equipment, mobile entertainment products and recording media. For further product information, visit JVC's Web site at http://www.jvc.com or call 800-526-5308.