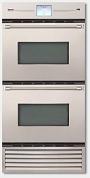 Program meals to be ready when you arrive home. TMIO brings you the Internet, cell phone, and telephone controlled IO professional series intelligent oven. TMIO creates unprecedented mobility for your household, and revolutionizes your lifestyle and cooking experience with the 30-inch dual oven, refrigerated, internet-controlled, connect io. A true dream appliance for those with busy lifestyles; dinner is ready when you are. This stainless-steel beauty lets you refrigerate your meal before you leave for work. You can then set cooking times with your phone, PDA or computer.
Features:
30″ Double Wall Oven fits standard kitchen cabinetry.
Premium Quality 304 Brushed Stainless Steel finish provides an elegant complement to your kitchen.
Largest Usable Capacity Oven you'll never run out of room with our generously-sized oven cavities; 4.25 cubic feet, the largest available on any 30″ double wall oven in its class.
Larger Viewing Area on Oven Windows gives you a beautifully clear view and greater control. Glass stays comfortably and safely cool to the touch.
Six Convenient Oven Racks, three ergonomically-designed racks per oven, with custom flared handles for easy handling even while wearing thick oven mitts.
3M® ClearTekTM Glass Touch Screen Control Panel is a TMIOTM exclusive, an industry first, and based on advanced NASA space technology.
Dual-Oven Advanced Refrigeration System for accurate and precision refrigeration control in both upper and lower ovens.
Refrigerates Prior to Cooking Cycle or after cooking completed to keep food fresh.
10-Pass 3300W Broil / 2000W Bake Hidden (Concealed) Elements far superior to the 8-pass system found in most high-end professional ovens, TMIO's professional 10-pass method covers much more of the oven's entire usable area, and is able to cook larger sized dishes evenly, thoroughly, and precisely to your taste. A perfect solution for larger meats, fish, and poultry. 3300W Power delivered for fast preheat for beautifully broiled meats. Concealed elements present a smooth and even surface for effortless cleaning.
True European Third-Element Convection with Two-Speed Convection Fans in both ovens for beautiful results in either baking or roasting modes. Solid perforated metal convection fan cover standard for your safety.
Full-Rack Broiler Pan allows you to take true advantage of the full usable width of the oven for large entrées. Only TMIO offers this exclusive full-rack broiler pan feature.
Superior Insulation ensures minimum loss of heat and highest cooking efficiency through NASA advanced thermal ceramic space technology.
Full Probe Dual Oven Cooking top or bottom ovens for precision cooking temperature and event control.
Proofing, Defrosting, Dehydrating, Refrigeration modes in addition to standard bake, broil, roast, convection.
Sabbath & Sabbath Plus Modes allow up to three days advance programming, delivering fresher meals during the Sabbath and Holidays.
Price: $7,500
(Please note prices are subject to change and the listed price is correct to the best of our knowledge at the time of posting)