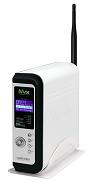 MvixUSA has released the Mvix MX-760HD HD Wireless Media Center firmware source code for free distribution under the GNU General Public License (GPL). Lately, MvixUSA and Unicorn Network Total Solution have taken some heat from users wanting access to the source code citing GPL violations. An email was even sent to the GPL Violations project.
After speaking with MvixUSA last week about the GPL issues, MvixUSA alluded to the fact that a solution was forthcoming and that they had been working with their lawyers to determine their responsibilities as distributors of the product without having access to the source code which was created by Unicorn. In addition, MvixUSA mentioned the importance of satisfying their customers while living up to the end of a contractual agreement with Unicorn.
The Geeks are excited by the release of the firmware code and believe the Mvix MX-760HD just became a more versatile product.