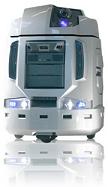 Welcome to the next step in robotics for hobbyists… the PC-BOT is a mobile robotics platform that runs off a PC allowing you to create new functional robots from off the shelf computer parts.
The robot basically is a mobile PC with standard bays and even runs the same operating systems that a PC runs (although the robot is scared of going blind if "upgraded" to Vista). The platform allows your computer to move, talk, see, hear, sense and can physically react and respond to the physical world.
It's a bit pricey, but if you're a true hobbyists what's a couple thousand?
Here's what the manufacturer has to say about the Model 914 PC-BOT:
So, what can you do with the bot? The simple answer is "just about anything you want it to do", but here's what you can expect your PC-BOT to do right out of the box.
After a fairly simple setup, the 914 is ready to navigate. This can be accomplished manually through the White Box Robotics interface (mouse or keyboard) or by joystick. It can also move about autonomously following pre-determined paths (defaults or dynamically generated) or it can enter "explore" mode where it will continuously cover an area, avoiding obstacles and stairs in the process.
While taking advantage of this mobility, you can also view the world through the eyes (webcam) of your robot. This remote mobile video telepresence capability is accessible through Windows Media via any local or remote PC or shared with your friends through your favorite instant messenger. You can also turn the driving lights on or off remotely depending on lighting conditions. Now you can check on your home, office or cottage…anywhere, anytime.
The next out of box experience comes from the fact that this very attractive robot is also a fully functional PC running Windows. In addition to sensible productivity applications, it doesn't take much to turn the 914 into a very cool mobile entertainment platform.
All of this good fun is just the beginning …the 9-Series PC-BOT is also a novel application development environment for robotics application's developers set on developing the next wave of serious applications. There's almost no end to what you can build with a little or a lot of tech savvy. Our application development environment and API code named "Brian" allows you to write custom algorithms for a wide range of behaviors, such as speech recognition, navigation, and artifical intelligence.. We will also be developing on an ongoing basis new Windows Services that can be integrated into the recently announced Microsoft Robotics Studio (see http://msdn.microsoft.com/robotics for the latest developments on this exciting initiative). We will also continue to build on our support for Linux Player Stage. The dream is just beginning … ending, unplanned.
By taking advantage of the 914s PC heritage, you can choose from thousands of inexpensive plug'n'play PC components to radically mod your 'bot and integrate it with digital hub and home automation technologies.
Price: $4995
(Please note prices are subject to change and the listed price is correct to the best of our knowledge at the time of posting)