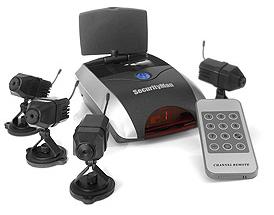 Adding an entire video security system may sound costly, but this four-camera wireless kit provides powerful surveillance while still fitting in your personal or business budget.
With the Mini-Air Watch4 Wireless Color Camera Kit, you can put four tiny cameras anywhere and transmit vivid color video with audio directly to your TV or VCR so you can monitor what's happening in and around your home or business.
The Mini-Air Watch4 Wireless Color Camera Kit is a tiny wireless security color camera system for homes or small businesses. It comes with four tiny, powerful wireless video cameras and a video receiver. You'll enjoy high-quality picture and sound transmitting and receiving from up to 100 feet away indoors or 300 feet away with clear line of sight. With four channels available, it's easy to switch among feeds automatically or manually with the included remote control.
AC adapters are included for both the receiver and cameras, but the cameras can be operated with the included 9-volt batteries for up to three hours of temporary use. For a smaller system, the Mini-AirWatch comes with one camera that connects to a single receiver.
Price: $299.99
(Please note prices are subject to change and the listed price is correct to the best of our knowledge at the time of posting)