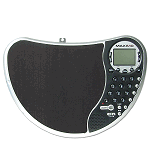 When the experts were talking about convergence over the past couple of years, I have a feeling they were not thinking about mating a mousepad with a speakerphone, alarm clock, calculator and called ID. I could be wrong though.
Anyway, this little gizmo should help you maximize your desk area. If you are truly a geek you probably use a softphone, a PIM, and know the quickest way to pull up a calculator on your computer and therefore do not need these physical devices… but if you're a geeklet you could use this gizmo as a stepping stone to greater geekdom.
Send and receive calls while you work!! This Maximo Concepts Mouse Pad features a built-in speakerphone allowing to place and receive calls without interrupting your work!
This Maximo Mouse Pad also functions as a calculator, alarm clock and offers Caller ID! It can store up to 110 phone book entries and the LCD display provides a convenient way to see telephone numbers and names easily!
Customize with 16 hold melodies and up to 48 ringer melodies! With its smooth surface, this Maximo Concepts Mouse Pad provides easy navigation for either optical or ball operated mouse devices!
Price: $9.95
(Please note prices are subject to change and the listed price is correct to the best of our knowledge at the time of posting)