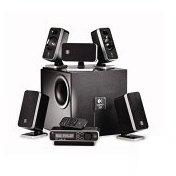 At first I thought these speakers were cool because the rear speakers are wireless, but at $350 I figured these speakers better have some other tricks up their sleeves. Apparently they do. The Z-5450 digital speakers features a dual-chamber subwoofer which plays louder and lower. Also, the speakers include a hardware DTS decoder for master-quality sound as well as DTS 96/24 which is an enhanced studio-quality format available on DVD video and audio discs.
Another gadgety feature for the speakers is Logitech's compact Digital SoundTouch(TM) Control Center that features a digital LCD, volume level adjustment, auxiliary input jack, mute and effects settings.
Remember a couple days ago I mentioned that true gamers want to be immersed in the game and there are a few ways to do this. Along with the ButtKicker Gamer, you'll feel like you are absolutely in the game!
Eliminate the hassle of hiding speaker wires! Immerse yourself in clutter-free, high-fidelity digital surround sound with Logitech´s THX-certified, 315-watt Z-5450 Digital 5.1 speaker system with digital hardware decoder and dual wireless rear speakers. The Digital SoundTouch Control Center supports Dolby Digital and DTS soundtracks and includes digital and analog inputs for connecting DVD players, PCs, video game consoles, MP3 players, and more. Fine-tune your listening experience with a convenient wireless remote. Wall-mountable satellites help make installation easy in any room. The patented dual-chamber subwoofer enhances your games, music, and movies with thundering distortion-free bass.
Price: $349.99
(Please note prices are subject to change and the listed price is correct to the best of our knowledge at the time of posting)