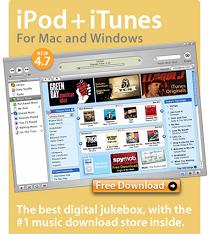 So you finished opening your Christmas presents and had to run over to the computer and check out what the Gizmo of the Day is right? Well, the geeks have decided to feature something practical… iTunes (songs or gift certificates)! After all, you need to put something on that new iPod you got.
Setting a new milestone for the online music business, the iTunes Music Store has sold more than 200 million songs, providing music fans with the best digital experience on Mac or PC. Now iTunes offers even more ways to discover and enjoy music.
Largest Legal Download Catalog. Select from more than one million tracks from all four major and more than 600 leading independent labels. Enjoy free 30-second previews of all songs. Find hundreds of exclusive and pre-release tracks and many rare, out-of-print albums.
Auto-Sync with iPod. Take your favorite tunes with you wherever you go. With an iPod or iPod mini, it's a cinch to sync: fast, simple and effortless. Got photos? Now you can copy them to iPod Photo and view them on-the-go or on a big-screen TV.
Stream Music Wirelessly to Your Home Stereo. With iTunes and an AirPort Express Base Station, you can stream music wirelessly from your Mac or PC to your home stereo or powered speakers.
Share Your iMix. Post and email songs in your playlists for everyone to see. Rate iMixes from other music lovers to drive them up or down the charts, and discover new music at the same time.
Party Shuffle. You're the DJ with a playlist that's always full of songs. Add, delete and rearrange them on the fly to create the best mix for the moment.
Print CD Inserts. Create stunning CD jewel case inserts for your album or mix disc using designer templates for both color and black & white printers.
Discover Music. Find out what's playing on more than 1,000 radio stations around the United States. Get music and audiobooks related to a movie. See a music video, get the track. Download a free song.
Previews in Playlists and Quick Links. Save store previews to purchase later. Find more music from the artists you love via Quick Links in your library.
Automatically convert WMA to AAC. Convert the unprotected WMA music files you saved in Windows Media Player to AAC format.
Apple Lossless. Use the new lossless encoder to import music from CDs and achieve sound quality indistinguishable from the original, at about half the original file size. Plays in iTunes and on iPod.
Price: 99 cents per song
(Please note prices are subject to change and the listed price is correct to the best of our knowledge at the time of posting)