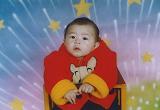 You may have noticed a slowdown in articles this past week… I was waiting for news of referral of my little geek that my wife and I are naming Briana. As you can tell by the picture… we received the news!
In addition to waiting and receiving our referral, the Geeks launched Gizmos for Kids to compliment last month's launch of Gizmos for Babies.
In honor of me becoming a new Dad, this week the Geeks will feature some Father's Day gadgets and gizmos and pick up the content again.