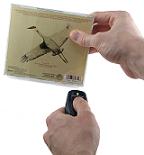 If you're any kind of geek at all, (and if not, what are you doing here? Ok, ok, you're trying to learn – you're forgiven 😉 ) you probably have lots of stuff. Gobs and piles and heaps and stacks and bundles and boxes worth of various stuff. Whether it's your Criterion Collection edition of Kagemusha, your complete collection of Buffy, The Vampire Slayer, your treasured Amazing Spiderman issue 300, or maybe your secret shame – your ultra-rare copy of Britney Spears' Toxic… you've amassed a huge collection, and it's critical you keep tabs on it.
Luckily, most things have barcodes, and we've got a barcode reader. Not only does this teeny little handheld read those barcodes, it can do so without a computer attached to it. Take it to where your stuff is, scan up to 150 barcodes, and return to your computer to download the list. Intelliscanner Mini includes software to manage your wine collection, home inventory, groceries, books, cds, dvds, and even comic books!
Not only does it maintain your lists, it will keep track of your lending, so if Phil borrowed your copy of Casino Royale, you can be damn sure he'll give it back. Stupid Phil.
What's more, the grocery manager not only helps you track the contents of your pantry, but also helps you manage your recipes. So, if some Stuffed Peppers or Chicken Tikka Masala strikes your fancy, the database can tell you up front if you've got the ingredients, and will help you make your shopping list for what you're missing. How freaking cool is that?
Price: $299.99
(Please note prices are subject to change and the listed price is correct to the best of our knowledge at the time of posting)