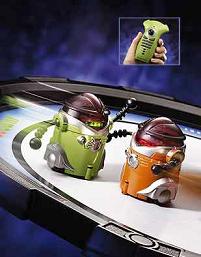 Think of this as the next generation of Rockem Sockem Robots. These remote control sumo robot wrestlers are individually controlled or can be set to run autonomously using the robot's AI. These little guys have infrared sensors to track and fight their enemy. They even 'learn' tactical moves over time! Pretty cool.
Features:
"Intelligent" Sumo Robot wrestlers use infrared sensor beams to detect, track and battle their opponent.
Compete against a friend or against the robot's artificial intelligence — or stand back and let the two robots battle each other!
Each Sumo Robot has its own wireless controller.
The more you fight these two ultra-smart robots, you're training them in tactical moves they will remember to employ in battle.
Price: $99.95 (on sale for $49.95)
(Please note prices are subject to change and the listed price is correct to the best of our knowledge at the time of posting)