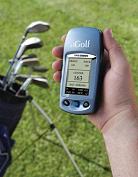 Next up for our week long dedication of gadgets for Father's Day we have a golf related item. The iGolf GPS Caddie helps dad improve his game. Sure the iGolf Caddie won't lug the clubs around, but who walks the course anyway when you are allowed to drink and drive on the golf course (by the way, golf carts can tip over…)!
The iGolf Caddie helps improve your game by automatically telling dad the distance to the front, center and back of the green while listing hazards such as sand traps and water hazards using GPS.
The iGolf Caddie won't help your shanks, but if dad is a pretty good golfer… he'd love this.
The GPS Caddie is ready to use out of the box without any additional software required if you want to map your own golf course for instant and future use. Designate up to 11 distance markers and eight additional points per hole. You can also download pre-mapped golf courses from anywhere in the world by subscribing to iGolf.com (annual subscription fee required).
Price: $224.99
(Please note prices are subject to change and the listed price is correct to the best of our knowledge at the time of posting)