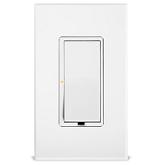 The ICON line from Smarthome utilizes INSTEON which is a next generation home automation networking technology and is value-oriented having similar features as regular INSTEON products without the added cost. For the price of a standard dimmer (check Home Depot or Lowes, dimmers now run $20!), you can add an INSTEON controlled dimmer.
If you need to install dimmers in your house, you might as well automate too!
Scene Lighting — Change the Lighting to Match Your Mood
Scenes allow you to control multiple lights, rooms or even the whole home with a single command. Because the ICON Dimmer Switch can be a member of 30 scenes (i.e. "Movie Time," "Party," "Romance," etc.), you'll be able to launch various mood lighting scenarios with a single button press. These are elegant features usually found only in systems costing tens of thousands of dollars and requiring extensive rewiring of your home.
True Rocker Action & Beautiful, High Quality Construction
Unlike other switches, the ICON Dimmer Switch offers the natural feel of high-end switches: tap the top to turn lights on, tap the bottom to turn lights off. You'll also love the crisp, tactile response with each touch, instead of the mushy feeling of other brands. The ICON Dimmer Switch is designed and manufactured to high-end specifications and goes through over 10 quality control tests. Upgrade the look of your switch with paddles that match you decor. They are available in Ivory, Almond, Black, Brown, and Grey.
Price: $19.99
(Please note prices are subject to change and the listed price is correct to the best of our knowledge at the time of posting)