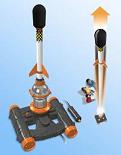 Water rockets are the latest home-made craze these days. Built well, a water rocket can get up 1000 ft into the air. The record is almost 2000 ft! Now, you can get a kit that generates hydrogen fuel from tap water and citric acid crystals. This 11″ rocket can get up to 10 stories high.
Features:
Fascinating model rocket generates its own hydrogen fuel from ordinary tap water.
"Green" hydrogen fuel is clean burning, environmentally safe, energy efficient and abundant enough for unlimited launches.
A red LED on the launch base indicates power is on; a yellow LED indicates an electric current is separating the water's hydrogen molecules.
When the green LED glows, you're ready to grab the Launch Cable and press the Ignition Button.
Hydrogen gas ignites, expands and propels your rocket high as 10 stories into the air!
Rocket is 11″ long; the launch base is 20″ x 10″. Runs on 6 D batteries (order separately).
Price: $39.95
(Please note prices are subject to change and the listed price is correct to the best of our knowledge at the time of posting)