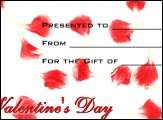 The Geeks warned you a month ago and every day for the past week but you forgot the high holy Hallmark day… Valentine's Day.
You could've picked some personalized roses, a LED Flashing Sweetheart Kit, a I <3 You Flower Can, some Talking Tapes, a Cream Whipper, the Complete Foot Massager or a Digital Photo Frame, but you procrastinated and now you have just hours before you're doomed.
Luckily, the Geeks have your back. When time runs low on any holiday, the Geeks always recommend that you grab a gift certificate and then personalize so it looks like you spent a little time on it. Now, check out Open Table to see if you can make a reservation for dinner tonight.
Price: $varies
(Please note prices are subject to change and the listed price is correct to the best of our knowledge at the time of posting)