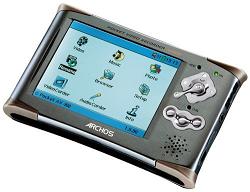 The 20 GB Archos Pocket Video Recorder AV420 is the ultimate handheld digital video recorder that offers TV recording and a portable home entertainment center in one pocket-sized device. Watch videos and view photos on the large color LCD screen, listen to and record music, and transfer photos from your digital camera and data files from your PC. It features a TV Cradle, an external speaker for enjoying music and video without headphones, and a built-in Compact Flash reader for transferring photos directly from digital cameras. The AV420 has a 20 GB hard drive, which can record up to 80 hours of video content from a TV, VCR, or cable/satellite receiver using the TV cradle. It plays MP3 and WMA digital audio files (included protected files) as well as WAV audio.
Once the TV Cradle is connected to a TV, VCR or cable/satellite receiver, you won't have to reconnect the cables again–just dock the AV420 and you're ready. The Recording Scheduler directly controls the tuner inside your VCR or cable/satellite receiver to automatically adjust the channel and record based on the time and duration of the schedule. The Scheduler will also synchronize with Yahoo TV Guide (where available) from the Internet so you can prepare your recordings for the week or month in advance.
Here's what it comes with: TV cradle with audio/video connections, remote control with 2 AA batteries, protective case, USB 2.0 cable, stereo headphone, manual, AC adapter/charger with US/UK/EU plug.
Price: $467.39
(Please note prices are subject to change and the listed price is correct to the best of our knowledge at the time of posting)