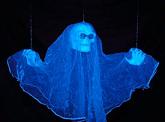 We're kicking off the first week of our third annual Halloween gizmos with a sound and motion-activated ghost. This ghost appears to float in mid-air raising and lowering his hands and emitting an evil laugh as Halloween party guests and trick-or-treaters pass by.
Check out the video of the floating ghost in action.
Whether you're planning a wild Halloween party or just want to give local trick-or-treaters a start, the Floating Ghost will be sure to make people young and old jump with fright. This sound- and motion-activated Halloween decoration makes spooky noises when visitors pass by, and he seems to float in mid-air as his hands are raised and lowered from the supporting pole.
Price: $24.99
(Please note prices are subject to change and the listed price is correct to the best of our knowledge at the time of posting)