DirecTV announced an innovative new product called Sat-Go (Satellite on the Go) that is the world's first completely portable and self-contained satellite entertainment center. This looks like an ultimate gadget for TV geeks and looks like a hardened briefcase and can fit into the overhead bin of an airplane.
Rick Rosner, a DirecTV consumer that just so happens to be television producer (CHiPs and the New Hollywood Squares) worked with a scene shop at Jay Leno's show and David Kuether to develop the DirecTV Sat-Go prototype. Less than a year later DirecTV is announcing the product.
The product runs off a battery and can plug into a car adapter or AC outlet and includes a flat antenna that rotates around until you hear beeping and receive a signal in the South. A mini-remote plugs into the base for easy storage. A couple of applications mentioned for the product include tailgating, camping, hunting and fishing which watching DirecTV anywhere and anytime.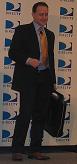 If you're inside you can remove the TV from the unit and use as a regular TV plugged into a DirecTV signal. Also there are a couple of inputs for devices such as Video iPods or DVD players.
DirecTV's A-list and best customers get the first crack at purchasing the product around April and then the product will be rolled out for everyone after that.
The Sat-Go was winner of an honoree award for "Most Innovative Portable Audio-Video Award" of the 2007 International Consumer Electronics Show. DirecTV's Sat-Go will be available through directv.com and select retailers across the country. Pricing details for DirecTV Sat-Go will be released at a later date.