Even though Saturday was pretty much a half-day, it was still pretty tiring, especially with lugging around a laptop, camcorder, camera, other assorted gear and a coat (since it was a 40 degree day in Vegas). [Note to self: get a small tablet or UMPC next time.] We attended the statistics-filled State of the CE Industry address, a presentation of "HD Audio" (which is really just a marketing term), and then CES Unveiled which was sort of a microcosm of the floor show to come.
It was cool for us, this being our second CES show, to feel like veterans. Yes, time does go by quickly in high-tech. We met up with a number of fellow bloggers (like Dave Zatz, Jeremy from LiveDigitally, and the Capable Networks (DVRPlayground, Techlore, RoboCommunity and more) folks) at CES Unveiled and talked about our general disappointment with that overall show. Hopefully, the floor show days will yield some cool and breakthrough news and products.
This is ironic, but we made a potentially cool contact, but not at the show, but in a cab, with a cab driver! He turned out to be a financial analyst who was driving a cab as a 2nd gig. We had a great conversation with him about the state of real estate in Vegas, in particular some of the very large, expensive projects. Apparently, one of the projects scheduled to being this year will be the most expensive project in the country. Ever. Wow. Unfortunately, we didn't catch his name, but he does have our card and will hopefully contact us.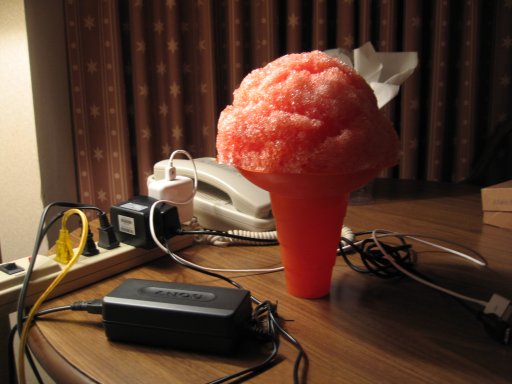 Walking up to our room in the Sahara, we passed by one of their little cafes, and a neon sign caught my eye. Maybe, you're more susceptible to advertising when you're tired? It said "Hawaiian Sno Cone" and I immediately said to Chief Gizmateer that we had to get one. He, being ridiculously tired too, said sure, what the hell. We're lucky the guy behind the counter warned us about the size and advised us to only get one. Luckily, we listened to him, but were still blown away by the sheer size of the damn thing. Yep, that pink looking thing is it. See the hotel phone and the power strip in the background? Oh yeah, great idea for you press-type folks at CES: bring a power strip! Add that to the other CES tips.