Last on the triple of press events on Saturday was CES Unveiled, where approximately 60 companies showed off a handful of their products. Most of these companies had also won a 2007 Innovations award for one or more of their products. The Innovations awards are given out by the CEA for the best engineered and designed products. We can't say that we say anything that we thought was groundbreaking, but we found a couple little gadgets that we really liked.
We'll highlight some of the products and companies that caught our eye.
MediaFlo USA is subsidiary of Qualcomm that has built and operates a wireless network to deliver audio and video programming, much of which is live broadcasts, to 3G phones. Their first customer is Verizon who will be announcing this new service at CES. We wonder how this will compete with Verizon's VCast service.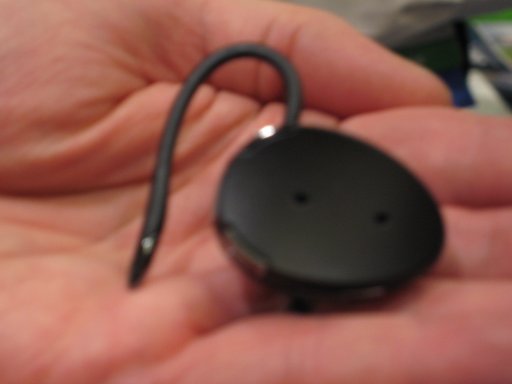 Gennum showed off their noise-cancellation Bluetooth headsets. The just-announced NX6000 (pictured) is a nice, compact unit, that doesn't look as bulky or geeky as the typical BT headsets you see today. You should be able to pick up the 6000 in February. Of greater interest was the NxZen VoIP which is an NX5000 paired with a USB dongle that communicates with the headset which can talk VoIP, and in particular, is Skype-certified. They are also working on getting the NX6000 Skype-certified, so you can get the smaller headset with that capability as well.
We also saw a few of WowWee's new robots including the Roboquad, WowWee Alive Elvis and the RS Media. WowWee also announced 3 other new robots for release in the US this year. For more information, check out RoboCommunity.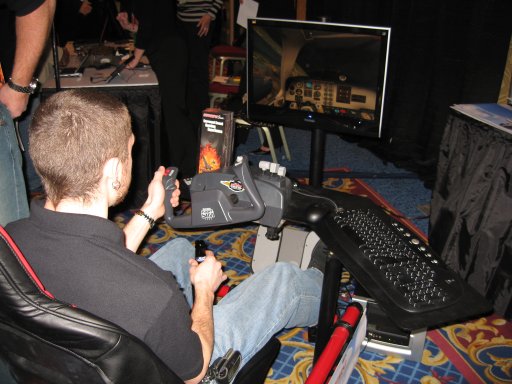 Hotseat Chassis showed off one of their latest product lines, the HotSeat Flight Sim. They're essentially all-in-one gamer's chair and chassis with surround sound speakers. The flagship model has a 23" LCD screen, a gaming system, and Microsoft Flight Sim. At just about $4k, it's really pricey, and you could probably build your own for less than $1500.
TDVISION was yet another company trying to get 3D visor technology right, and they added one more thing into the fray by also launching a 3D camera. The TDVISOR itself has the equivalent size of a 42" screen. It is similar to toher visors/goggles, in that you must strap it to your head and be prepared to look a little silly with a few inches of hardware sticking out in front of your face. Luckily, it's pretty light. However, the image itself wasn't much to look at it. It was just ok. To my eyes, it really didn't seem that much different from the 2D image. In fact, I preferred that to the 3D image. 3D imaging technology is still some ways off from being a common consumer product.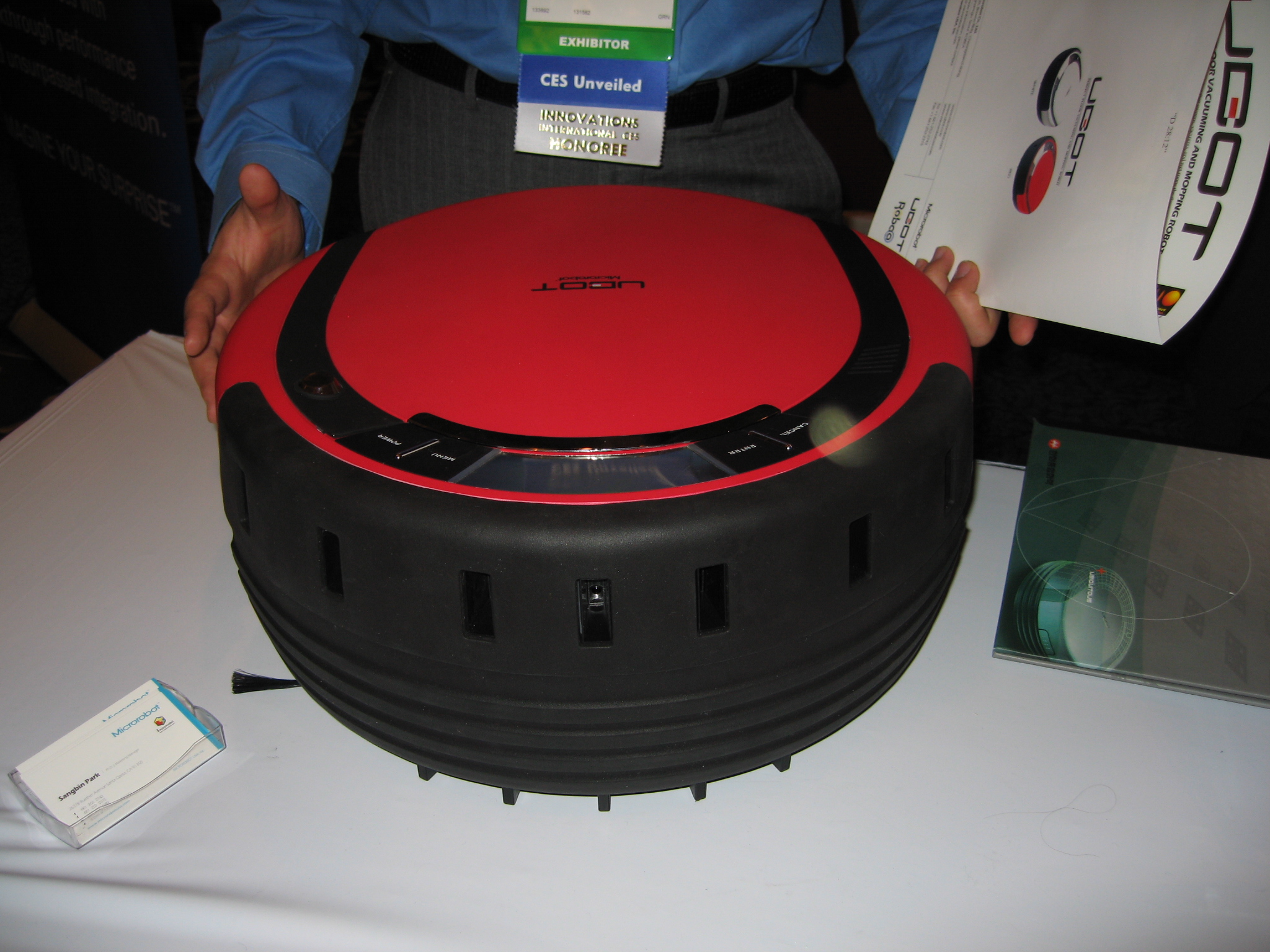 A Korean company, Microrobot, demonstrated yet another cleaning robot, the UBOT which vacuums and mops and has removable cartridges for each function. So what, right? Well, they had a differentiator. They work with a flooring company that embeds barcodes in the floor so that the UBOT has a map of the floor and can get to everything. Otherwise, if your floors don't have the barcodes, it'll navigate pretty much like a Roomba.
Netgear showed off their innovation winner product called HD Powerline Adapter which delivers 300 mbps over system powerline using DS2 technology (a competitor to Homeplug). The adapter we saw used component connections but it looks like tomorrow they will announce an adapter with HDMI. The next product Netgear was showing off was the RangeMax NEXT Wireless-N which delivers a steady connection and bandwidth needed to make VoIP calls, surf the 'net, download music and play games with speeds up to 300 mpbs. VeriTest compared performance of wireless products from Netgear, Linksys, D-Link and Belkin concluding Netgear achieved the strongest throughputs and furthest distance. Finally, Netgear's Skype WiFi Phone, which was announced last CES, was being shown.
For our RC enthusiast readers, you'll like to know that Interactive Toy Concepts put out a new model in their BladeRunner line of Helicopters, the BladeRunner Recon which inludes a camera in its nose. It is remarkably stable. We also took quick video of their Micro Mosquito.
Zoran's latest product is a new portable media player called the Zplayer Ultra. The media player includes a complete solution software including embedded PC host software for media management, transcoding and remote network server applications for internet content download and services (such as the PassAlong music service) on top of the threadx OS.
Addlogix's EchoView FM is a wireless display adapter which connects to the displays component video, composite video, VGA or DVI port allowing computers to wirelessly (IEEE 802.11b/g) stream video to the display. Setup sounded as simple as connecting the device to a display and connecting a laptop or PC to the particular SSID of the device. The PC then automatically connects and downloads the software needed.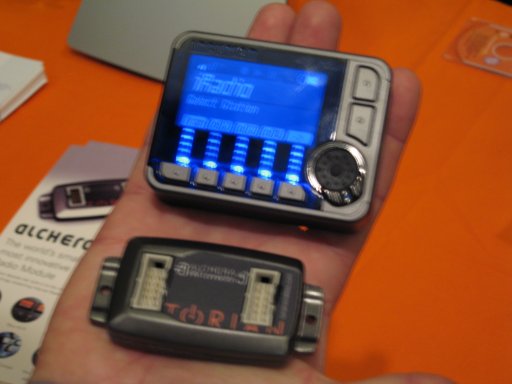 Torian InFusion portable Internet radio allows users to listen to any radio station in the world that streams through the web without the assistance of a computer using a small and portable form factor so people stationed abroad or traveling overseas can easily take the device with them and stay up to date with their local news and sports. Also, Torian has announced Alchera which will become the world's smallest Internet Radio Module allowing integration into your car, hotel room, FM radio, game console, television and more. Alchera will be available in mid 2007.
Celestron reappeared as an innovation winner this year with a new product called the VistaPix IS70 which combines a traditional 70mm spotting scope and a 3MP digital camera into one unit. Also featured is an add-on for last year's Best of Innovations – Personal Electronics winner, the SkyScount. Several Sky Tour SD cards which include a "Sky Tour" audio presentation with hours of informative and entertaining information.
Offering the second version of their web-based home monitoring service, iControl Networks now provides compatibility with Z-Wave products giving consumers access to a unifying, mass-market service that works on top of existing, off-the-shelf devices.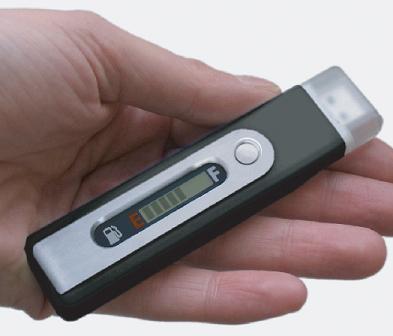 And finally, here's a simple gadget that we really liked: the Powerstick from Ecosol Solar Technologies. The Powerstick is an energy cell that is a bit larger than a USB stick, that can be used to power your portable devices. For example, it can fully charge a typical Blackberry. To charge something, just plug it into the device's regular power adpater interface via an adapter. The Powerstick itself can be recharged simply by plugging it into a computer's USB port. It can be recharged up to 500 times and will hopefully be available in May 2007.