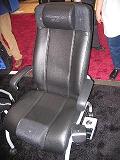 One of the cool gadgets that we did not know about but ran into along the way was a "media" chair made by Empower Technologies. The Powerplay 5.1 Pro Media Chair is an ergonomic, comfy gaming/multimedia chair that has 5 speakers embedded into it, 2 around the headrest, 2 to the sides of the seat and one embedded right in the top-middle of the seat. There is also a subwoofer underneath the seat and the sound system is THX-certified. Added to that, there is a tactile transducer a.k.a. a "bass shaker" that picks up low frequencies and vibrates the chair. We sat in the seat and watched (and felt) a piece of the podracer scence from Star Wars: the Phantom Menace. It really was a great experience – you were surrounded by sound and felt more embedded in the movie, and the vibration and deeper bass completed the effect. Even though the speakers are relatively close on the chair, there was still really good stereo separation. You can get your Powerplay Media chair directly from Empower for US $999.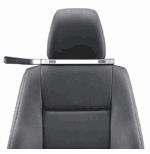 There were a couple of cool products from Iqua that are worth mentioning. First up is the Iqua Snake2 which is a Bluetooth handsfree headset that embeds into your car's headrest. It's stylish and has a number of useful features such as volume control, voice activated dialing, and 8 hour talk-time. But the picture really tells most of the story.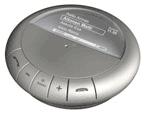 The other cool product from Iqua is a Bluetooth portable handsfree speakerphone, the Iqua UFO. This really fills the void that is almost universally poor speakerphones in cell phones. Again, a picture tells a thousand words.