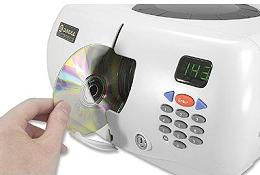 CDs, VCDs, DVDs, CD-Rs, CD-RWs… up to 150 disks can be managed in this ingenious carousel. When attached to your PC (via USB port) you can build a searchable database of your disks then find them by title or keyword. Double- click the title you want from the search results and it is delivered to you in seconds. A new built-in single port USB hub in the Carousel II lets you connect another CD Carousel or other USB accessory, such as a mouse or scanner without an additional hub. Like the original CD Carousel, it can be used standalone or with your PC to create a searchable database of your disks. Then it finds them and delivers them up even faster!
Features:
Can be used interfaced to your PC or operated as a standalone library
The lockable carousel keeps your disks safe, clean and secure
Windows 95/98/2000/ME/XP
As many as 127 carousels can be connected and operated together with the use of a hub.
Price: $126.00
(Please note prices are subject to change and the listed price is correct to the best of our knowledge at the time of posting)