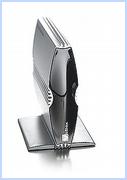 Bring HDTV to your laptop with today's Gizmo of the Day! You can watch free over the air (OTA) HDTV or turn your computer into a digital video recorder allowing you to use your machine as a HD "TiVO". The Cat's Eye USB HDTV Tuner comes with Beyond TV Software which allows one-touch intelligent recording of your favorite shows through the included SnapStream software.
The geeks are drooling over this one!
Been eyeing those widescreen HDTV sets but don't want to pony up thousands of dollars? The Cats Eye USB HDTV tuner and bundled Beyond TV software allow you to enjoy glorious hi-res HDTV broadcasts from your laptop or PC. Pause, Fast Forward, Rewind, Record and Playback HDTV… browse TV listings and set recording time. Web based access lets you schedule shows to record even when you're not at home. You can even backup your favorite episodes to DVD. The included Firefly PC remote allows you to control everything wirelessly. It's kind of like having your own HDTV Tivo built into your laptop… but without all the DRM.
Price: $134.99
(Please note prices are subject to change and the listed price is correct to the best of our knowledge at the time of posting)