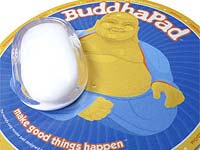 The BuddhaPad may look like a regular mousepad but the manufacturer says that rubbing the Buddha belly on the pad will grant you spiritual enlightment. Also, 10% of the price of the BuddhaPad will be contributed to Make A Wish helping grant wishes of children with life-threatening conditions.
Personally, I have had a Buddha on top of my work computer since 1995 and my various work machines have never had issues! Maybe I'm superstituous but I do believe Buddha brings happiness and simply looking at the BuddhaPad should bring a smile to people.
The processor of your computer hums quietly in the background as you rest your fingertips lightly on your keyboard. Frustration and anxiety drift away, allowing you to effortlessly navigate your computer using only your mind ­and your mouse ­guiding you to your ultimate goal: inner peace.
And although the BuddhaPad may not grant you immediate spiritual enlightenment, it will certainly help you on your way.
BuddhaPad is the World's only mousepad created specifically to make good things happen. Peacefully-designed with the tranquil image of Hotei, the happy, or laughing Buddha, BuddhaPad offers contentment, good fortune and superior mouse-tracking for both standard and optical mice on its durable 8.5�? diameter surface. BuddhaPad allows users to seek happiness, prosperity and wisdom by quietly rubbing the Buddha as they use their computers.
As kindness and generosity are core characteristics of the enlightened Buddha, BuddhaPad donates 10% of its sales directly to the Make a Wish Foundation, the premier wish-granting organization for children. Following that, it is up to each user to use the BuddhaPad to help spread good fortune in the world through each keystroke and click of their mouse.
The BuddhaPad is available for $10.95 online at www.BuddhaPad.com.
Price: $10.95 with 10% going to Make A Wish
(Please note prices are subject to change and the listed price is correct to the best of our knowledge at the time of posting)