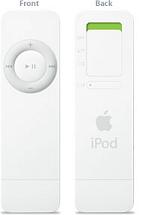 The smallest iPod yet: The size of a pack of gum, iPod shuffle weighs less than a car key. Which means there's nowhere your skip-free iPod shuffle can't go. And with up to 12 hours of continuous playback time, it keeps going as long as you do. The optional battery pack lets you listen even longer.
The controls on the iPod shuffle feel as intuitive and easy to use as those on every iPod model. Play, pause, skip, repeat, hold and shuffle at the touch of a thumb: The circular, ergonomic controls and one-click toggle slide make it simple to listen without looking.
Plug-and-Playlists: iPod shuffle makes syncing a piece of cake. Use the optional Dock to connect to your computer, or just plug iPod shuffle directly into a USB port on any Mac or PC.* You can even transfer non-music files to open on another computer. iPod shuffle automatically charges while syncing, so it stays ready for your next adventure.
If you favor cycling to a hip-hop soundtrack and snowboarding to a little electronica, Autofill a specific iTunes Playlist to your iPod shuffle and roll. Or just drag and drop individual songs or albums from iTunes onto iPod shuffle. With Play in Order mode, you manage the music. If things take a turn for the predictable, never fear. Flip the Shuffle toggle on the back of iPod shuffle and mix on the go.
Price: $99 – $149
(Please note prices are subject to change and the listed price is correct to the best of our knowledge at the time of posting)