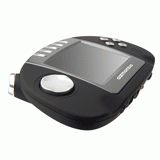 Another gizmo company who underdelivered is apparently no more. The Geeks expect the domains for gizmondo.com and their parent company of tigertelematrics.com to be up for sale sooner than later as neither are responding today.
In fact, Windows for Devices speculates that "Gizmondo Europe, maker of the eponymously named Windows CE-based Gizmondo gaming device, and parent company Tiger Telematics, reportedly have closed up shop." MSN Mobiles reported that April 16th, 2006, the Gizmondo store closed their doors on Regent Street in London.
Stefan Eriksson wins the Geeks award for worst year ever as his failed Gizmondo company has now shut their doors after his recent arrest for embezzlement, grand theft auto, driving under the influence of alcohol and an illegal possession of a firearm not to mention crashing his Ferrari Enzo back in February! And you thought you were having a bad day!