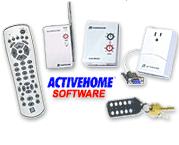 Ok folks, this isn't an April Fool's Day joke. This is for real. Just imagine being able to control all of your X10 products and remote controls from your computer. Using ActiveHome, you can. Monitor your surveillance cameras, control your home via the Web, set up schedules to turn lights automatically on and off, create macros to perform certain sequences of functions. You can even extend the capability of the software by using their Software Development Kit (SDK). The kit also comes with a handheld remote control that would let you control your typical Audio Video equipment (TV, VCR, Satellite Receiver, etc.)
There's more. How about a credit card-sized remote control that sits on your keychain and allows you to turn on the lights in your house?
You'll really have to check out the X10 site for some great screenshots and more great ideas on what you can do with ActiveHome.
Price: $49.99 (Starter Kit) $99.99 (Pro Kit)
(Please note prices are subject to change and the listed price is correct to the best of our knowledge at the time of posting)