Have you ever wanted to catch that person you suspect is snooping around your office? Peek in on the cleaning lady while you're away? Or check up on the kids while at work or out for the night?
There are many options available to choose from when selecting a video surveillance system. Professional surveillance systems can cost hundreds of dollars. Or you could just try out many of the free and low cost downloadable software applications available for use with everyday web cameras.
Since webcams are affordable and easy to connect, it's a great place to start with a DIY home or office surveillance project. Some of the best downloadable webcam software is available as freeware or comes in under $70.
1. Yawcam (Freeware)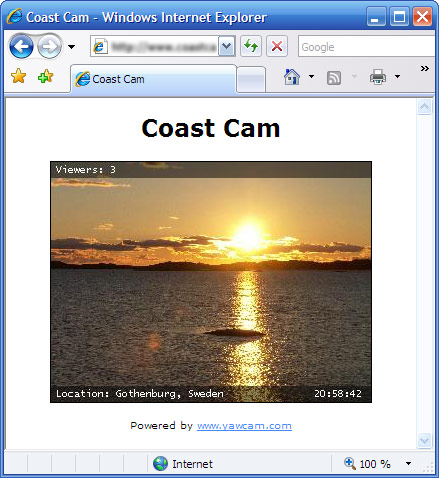 Short for Yet Another WebCAM software, Yawcam is simple, easy-to-use surveillance software that supports live video streaming from a webcam or digital video camera. It's perfect for use at home or in a small office. Yawcam includes all the regular features one would want in a basic system.
Major features include:
Video streaming
Image snapshots
Motion detection
Text and image overlay
Built-in web server
Scheduler for online time
FTP uploads
Time lapse movies
Multi-language support
Runs as a Windows service
Java-based
2. WebCam Monitor by Deskshare (Free Trial, Purchase for $69.95)
WebCam Monitor by Deskshare allows you to monitor, preview and record one camera at a time. It's ideal for monitoring a small area such as a dorm room or office. This software offers a step up in features and camera functions including centralized camera management.
WebCam Monitor not only offers motion detection, but sound detection too. This is a nice feature not found in many low cost monitoring software systems. Recording can be scheduled at set time intervals to capture time sensitive activity. If you're looking for multiple camera support, try Security Monitor Pro, the professional-grade version by Deskshare. There is also a free stripped down version called IP Viewer.
Major features include:
Support for over 100 Web and IP cameras
Motion and audio detection
Video buffering records before motion is detected
Pan-Tilt-Zoom support
Time and date stamp
Mask unwanted motion detection areas
FTP upload
Schedule monitoring times
Remote viewing
Audible alarms
Email alerts
Image/video quality adjustments
Easy set-up and configuration wizard
Storage optimization
Auto-server upload
Windows compatible
Technical support knowledgebase and tutorials
3. Willing Webcam by Willing Software (Free Trial, Purchase for $39.95)
Not just surveillance software, Willing Webcam has features that enable you to use it as a video capture and distribution solution as well. You can stream live video or time-lapsed images from your webcam or other video sources to a web site. It's compatible with most USB-based or Firewire (IEEE 1394) video devices. So not only can you connect and view your webcam, you can connect and share video from camcorders, TV and video capture cards, TV tuners, Cannon digital cameras and IP cameras. It also supports the PTZ capabilities of Logitech webcams.
Willing Webcam offers essential surveillance features like motion detection, alerts, remote management and stealth mode. Add watermarks and date stamps to images and video and archive safely via FTP upload. Create webcam image effects with colorful text captions. Willing Webcam comes in both a "Lite" and full-featured version. However, the Lite version doesn't offer some of the convenience features such as email or MMS (multi-media messaging services) alerts, remote management, FTP upload or video streaming.
Major Features Include:
Live streaming video
Image snapshots
Motion detection
Sends email/text/image message alerts
Time lapse record feature
Remote management
Video output for Skype & IM
FTP/HTTP upload
HTTP server, video streaming
Stealth mode, password login
Gamer view
Windows-based
Supports USB-based cameras and Firewire video devices
4. DigiWatcher – Free download with time limits; No time limits, $39.
DigiWatcher combines four main features in one system. It supports video recording, motion monitoring, remote video surveillance and webcam broadcasting. It saves compressed clips and can auto-upload to FTP, send an alert via email or phone. Watcher comes with a free optional Remote View download that enables remote access for Watcher. The newest version of Watcher doesn't include stealth mode, but the company still offers the previous version for download if you want this feature.
Major features include:
Live streaming video and audio
Motion detection
Buffering records before motion is detected
Supports IP/USB cameras and RSTP (real-time streaming protocol) video sources
Email, phone or FTP upload alert
Remote viewing and management
Video broadcasting
FTP upload
Multi-camera support
Minimized mode with password protection
Record Scheduler
5. Genius Vision NVR – Freeware (noncommercial use)
Worth mentioning, this full featured professional-grade surveillance software has lots of bells and whistles that are sure to thrill any tech geek. However, this freeware does not support webcams, but IP/CCTV cameras. It's ideal for performing surveillance on larger homes or offices where you want to view and control multiple cameras from various locations.
Since this product operates as a NVR (Network Video Recorder), you should consider running this system on a dedicated PC with a good amount of hard drive space. It runs on Windows, requires no registration and has no time limit on full functionality.
Major features include:
Live, remote viewing and control
Supports multiple cameras
3G Mobile phone video streaming
Tutorial guide
Intelligent and motion detection
Digital Pan-Tilt-Zoom
360 Degree panoramic live and playback viewing
25-Channel synchronized playback
Supports multiple monitors
CMS (Central Management Station) for large scale installs
Group-based, multi-level permissions
Trigger options
Smart search
User tree
Windows-based
Runs as a Windows service